Project Spotlight: SquareWork Co-Working Space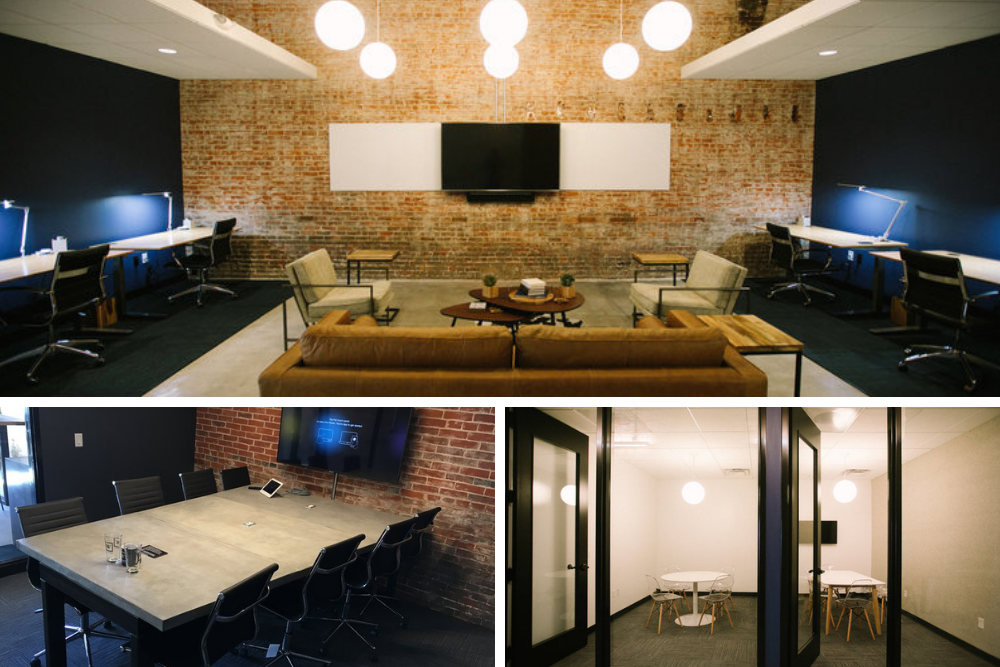 We recently completed a project in Liberty, MO for SquareWork. Squarework is a  space that offers a variety of meeting, office, and individual workspaces with modern construction design in mind. Co-working spaces are truly the future when it comes to how modern offices will operate.
SquareWork: Modern Design with Collaboration in Mind
The environment people work in is extremely important to their productivity as well as their creativity. Implementing modern design touches such as natural light wood, windows instead of walls, and steel beams in this historic building was key in creating this up to date co-working space.
Maintaining Historic Integrity
The main goal of this project was to maintain historical integrity and use what the building had to begin with as often as we could. In this building, there were exposed brick walls, original ceiling beams, and durable concrete floors. We kept these elements as is to give the meeting rooms and offices more character.
An Open Design
A huge trend right now in construction design that we do not see changing any time soon is the fact that workers want a more open office design. Now, although some companies can operate in one large office space with no doors or walls, it was important that some private spaces are still available.
We kept the space open and airy but using large windows instead of walls. Common spaces are large with plenty of seating so that comfortable collaboration is facilitated. Making it easy for workers to move through the space easily was one of the main things we kept in mind when working on SquareWork.
Design is in the Details
We approached this project with minimalism in mind from start to finish, but that does not mean that attention to detail was compromised in any way. Every element in SquareWork was carefully installed to ensure longevity and stay within the desired aesthetic.
The real visual interest comes from the light fixtures. It was important to brighten up this space because it doesn't receive very much natural sunlight. The light fixtures are modern, sleek, and fit the look perfectly in the J.J. Stogdale Conference Room, event space, and Corbin Opera House & Woody's Appliance Conference Rooms.
This project is a great example of what modern office and meeting spaces are becoming and how functional, modern design is more important than ever – even in historical buildings. If you are looking for a construction company that knows their way around historic restoration and modern design, contact Camm Construction today. Our design-build approach makes it hassle-free to create the space of your dreams.