Historic Building Restoration: 5 Tips From the Pros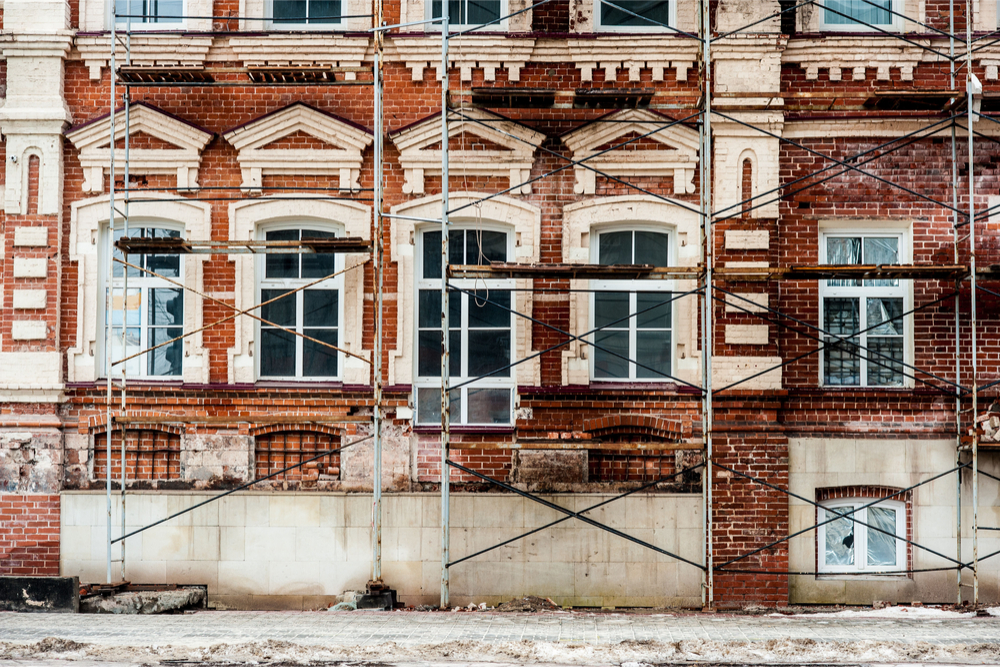 Historic building restoration is no small undertaking. Not only does the building require special care, especially when dealing with old structures and building materials, but historical buildings are often full of surprises, and those surprises can add up quickly.
No matter how passionate you may be about building restoration, saving a historic building in your town from destruction or decay is quite the enterprise. However, if a historic building restoration project is done right, you will be giving new life to a beautiful structure. Before you commit to saving a historic building, you need to be prepared and who better to learn from than the experts who have done it before?
Tips for Surviving a Historic Building Restoration Project
Here are five tips from our industry professionals at Camm Construction. Follow their advice, and you are sure to be well on your way to protecting your community's historical, cultural, and architectural heritage.
Ensure the Building can Support Modern Amenities
When first getting started with a historic building restoration project, you may be tempted to immediately start picking out new cabinets, crown molding, and appliances, but your first step should be more practical than aesthetic.
Historic buildings occasionally have complications that directly affect the building's integrity. When updating a historic building, it is preferable to retain and repair as much of the original structural system as possible. However, if you find that more amenities need to be added, you will first want to make sure that the building can support such additions.
Some historic buildings have structural systems that may require sensitivity when altering or repairing its elements and, in some cases, it may be necessary to add an entirely new structural system to strengthen the existing system with modern innovations.
Maintain the Building's Character
The next step of your restoration project should be to determine the building's significance to its surrounding community. Historic buildings have seen a lot of history throughout the years, but they also have rich architectural features, design details, and unique layouts that have since disappeared from modern home construction.
Determining your building's historical, cultural, or architectural significance is important for raising awareness, but it can also help you when it comes to applying for grants/funding, as well as meeting specific codes guidelines which we will discuss in more detail shortly.
Did a historical event occur here? Was it the first building of its kind in the area? These are only a couple of questions you will want to know the answers to before making any drastic changes to the building's appearance.
Experts suggest working with local historians, community leaders, and past owners to acquire as much information about the building as possible. Restoring historic buildings allows you the chance to keep the craftsmanship and local history alive.
Retain as Much of the Original Building as Possible
The character of a historic building should be respected as much as possible when incorporating new additions. No matter how big the changes being made are, each can have a significant impact on the building over time, and specific care should be taken to avoid any potential loss of integrity.
Any changes or upgrades you are considering should be sympathetic to the original architect's specific design intent and they should also be installed to avoid damage to character-defining features and finishes.
Work around the historic fabric as much as possible. If a disturbance is unavoidable, any replacement should match the design, color, texture, and materials of the original as closely as possible. If substituting materials is unavoidable, they should convey the same form, design, and overall appearance as the historic feature and such changes should be well documented.
Pay Close Attention to Building Codes and Historic Building Regulations
Not only do renovation projects need to place priority on the building's resources, but they also need to prioritize the safety of the building's occupants. So, it is extremely important to also address building codes and regulations, as well as safety and security measures.
Designers, facility managers, and code officials should be involved early on in the planning and design process so they are given the proper amount of time to look at potential issues and challenges that may arise within the historic property. Application of such codes should be done in consultation with code authorities and preservation experts to ensure they address issues such as egress, fire and smoke separation, detection, and suppression, as well as operational considerations.
Ask for Expert Advice
Last, but certainly not least, it's always wise to assemble a team of experts to help. As we said earlier, a historic building restoration project is no small task, and it could prove to be quite useful to have a team of experienced people to help provide assistance throughout the restoration process while also understanding the ultimate goal of restoring the property.
A contractor and an inspector can help estimate the amount of work that needs to be done and its cost, while a researcher can help ensure you purchase the right materials for the job. We understand you may feel like tackling this sort of project on your own, but you will most certainly want talented people around you who can help you throughout the process of restoring a historic home.
Click below to contact Kansas City's historic building restoration experts at Camm Construction.